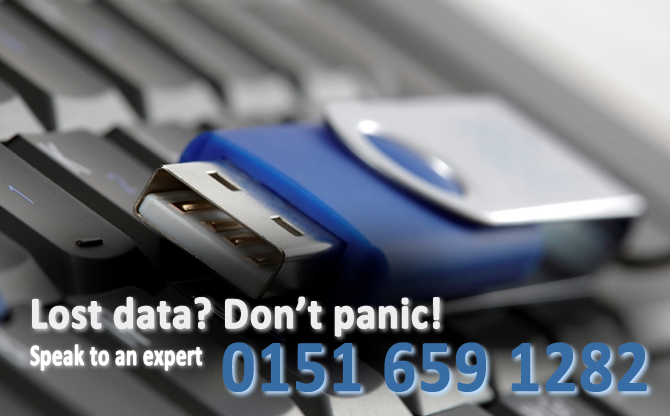 USB memory sticks began life quietly, more of a manufacturing test than a method to store Gigabytes of data. The original USB memory sticks held 128 Megs and while handy were used more as an alternative to floppy drives than serious storage. That changed as the small device (termed flash drive, thumb drive, flash stick, memory stick), caught on with consumers and storage capacity increased from 128 Megs to 1 Gig, then 3 Gigs, 5 Gigs and some of today's USB memory sticks holding a Terabyte of data.
Because they are relatively inexpensive, easy to operate, maintain and transport, vast amount of data (sound, video, spreadsheets, photos, programs, etc.) call this storage device home. It's a perfect solution for students, authors, musicians, photographers and others, but what happens if the data becomes lost or corrupted?
If the data is backed up and this is merely a secondary means of storage, then while it's certainly a nuisance, it's far from a tragedy. For many though, these small devices have become their favorite (and sometimes only) means of storage. When data loss happens in that scenario it's more than a nuisance, it quickly becomes a very real fear and leaving a user wondering, "What can I do?"
First, don't panic, in most instances your data is still safe, simply unable to be accessed by the home user. At USB Memory Stick Recovery Liverpool, our specialty is data recovery no matter the medium and we'd like to help with a Free, no cost or obligation phone call.

We've built our company and become leaders in our field based on two crucial facts.
We have successfully recovered data from almost every type of storage device
We ALWAYS treat our customers with courtesy and respect and never pressure them for a decision.
Do we want your business? Of course, that's why we're here, but we know you're a person, not a number on a balance sheet and the data contained is personal to you. It may technically be ones and zeroes, but it likely represents your latest creation, proprietary business documents, treasured family photos or any of a thousand other things.
Call us on our local support number @ 0151 659 1282 and let us put your fears to rest.
Why USB Memory Sticks Fail
While in most cases USB memory sticks are manufactured to the highest standards, they are still subject to..
Human error
Transfer errors
Improper removal from the host machine
Accidental reformats
Bent or damaged pins
Should You Perform Your Own USB Memory Stick Recovery?
While it's certainly possible to use data recovery software, there is the possibility of doing further harm which could render your data unrecoverable. Make certain you know exactly what you're doing prior to attempting a home repair. Our recommendation is that you first give us a call; the call is free and you will never encounter a pushy sales person, just a friendly voice walking you through options, allowing you to make an informed decision.
Call us FREE and without obligation @ 0151 659 1282 and we're happy to discuss your options.
CAUTION: When purchasing a USB memory stick, whenever possible, stay with major brands avoiding claims of increased storage and/or speed, but coming from a manufacturer without credibility.
How Long Will a USB Memory Stick Last?
When buying from a reputable manufacturer you can expect approximately 10 year of storage life. That number can change if your memory stick becomes damaged, either from electrical surges, improper removal, bent pins or sometimes simple condensation.

Proper Use Of A Usb Memory Stick
Avoid storing them in wet or high humidity areas
Try to keep them from temperature extremes
Always eject according to manufacturers recommendation
Never force them into place
Can Your Data Be Recovered?
Collectively at USB Memory Stick Recovery Liverpool, we have over 30 years of experience in data recovery from every conceivable method of storage. In almost every scenario, your data can be recovered using the proper tools and techniques.
We want to help so put us to the test, either pick up the phone, or use the contact form on this page and we'll call you. Either is fine, our business is data recovery and we've become leaders in our industry by ALWAYS following through with..
Excellent customer service
Competitive and flexible pricing
A willingness to go the extra mile (or more) to ensure your data is returned safe and sound.
Call us at 0151 659 1282 and we'll be happy to step you through the options without any obligation.