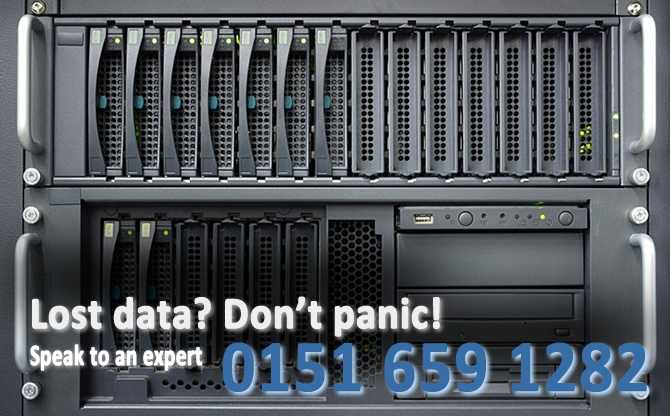 Specialists in RAID Data Recovery – Liverpool, UK
When a company advertises they perform RAID data recovery, it's very likely they're in the data recovery business long term, and that is certainly true for us, RAID Data Recovery Liverpool.
We have an entire team dedicated to knowing the ins and outs of every type of RAID system..
RAID 0
RAID 1
RAID 5
RAID 10 (also known as RAID 1+0)
If you're running a RAID system, it's very likely you're not a home user, much more likely you're the admin for a network and in the middle of a crisis.
We understand the stress, we talk the talk and we're prepared to offer a NO COST, NO OBLIGATION consult to discuss your options.
If you're experiencing any difficulties with your RAID system, call us @ 0151 659 1282 Free.
While we -of course- offer competitive pricing, that's likely not your first item of priority, you're likely thinking, "How fast can you guys help me out?"
The answer – FAST
Our techs are goal oriented, have a 'never give up' attitude and collectively they have over 30 years of experience, that's a lot of hours racked up doing one thing, and doing it to the best of their abilities, RAID data recovery.
You already know that recovering data from a RAID array isn't a walk in the park; it requires specific knowledge, the confidence of having successfully recovered RAID data previously and of course the right tools, techniques and software.

What We Offer
A tech team with a vast amount of RAID data recovery experience
A capable customer service team always ready to answer even the most probing question; and they'll do it with a smile and informed reply
All work is performed is ISO certified clean rooms
We never force you to make a decision, we simply present your options allowing you to make an informed decision. If you choose us, great, and we'll work tirelessly to recover your data.
Have an emergency? We can help with on-site repairs and 24hr turnarounds if needed.
Put simply, data recovery is the heart and soul of our company and we're fully prepared to go the extra mile (or ten) to show you why we've risen to become a leader in RAID data recovery Liverpool.
A Word of Caution
Obviously we haven't (as yet) met, but if you're reading this you may be smack dab in the middle of a RAID data loss emergency. Here's the best advice we can give, DON'T DO ANYTHING, call us first and let's talk about your system.
It's possible, should you attempt on-site repairs without knowing exactly what you're doing; you could do more harm than good. And while we don't know your scenario, we know from experience that someone's job may be on the line, so don't risk it, call us first.

The Suits vs. The Geeks
A lot of pressure is put on the IT department, and doubly so when things go wrong. The guys upstairs immediately start calling and they aren't interested in the Whys and Wherefores.. they simply want one question answered and they want it answered immediately.
"How soon can you have us back up and running?"
Excuses aren't going to cut it, only results and that's what we provide, proven results from thousands of customers over a period years. Call us and put us to the test, if you don't like what you hear, you can simply hang up, but we don't think you will. Why? Because we're the best at what we do, that's not said to boast; our track record speaks for itself.
The Costs of The Recovery Process
It's natural that you'd ask, "How much?" And while we can't quote a price without knowing the details, let's look at the flip side.. "How much is your downtime going to cost you if you have to recreate the data?
The RAID Recovery Process
Step one (crucial with RAID systems) is make sure all drives are functioning properly. If any drive is not up to specs, it's taken into our clean room and brought back to life.
With that step complete; we'd then make a sector-by-sector (low-level) clone of each drive, allowing our techs to bypass (should it be necessary) any bad sectors. After the cloning is complete, the original drive (the damaged one) is set to the side, while the recovery process happens with the cloned drive. This removes the possibility of further data loss to your original drive.
There's more to the puzzle of course..
Destripping
Using an emulator
Testing the clones drive, etc.
And if you'd like to know more about any particular step, we're happy to fill in the blanks on anything you may not understand fully.
Servers
We have extensive experience with the following systems
Linux IAS
NT
Efinity
Server (2000, 2003, 2007, 2008)
Debian
Data Center – 2004
Data Center – 2006
Not to mention having working relationships with IBM, Dell, HP, Lenovo, Fujitsu, Asus, NetApp (and others).
CALL US – @ 0151 659 1282 or fill out the contact form on this page.
Let us prove why we're the top rated RAID recovery firm in Liverpool.